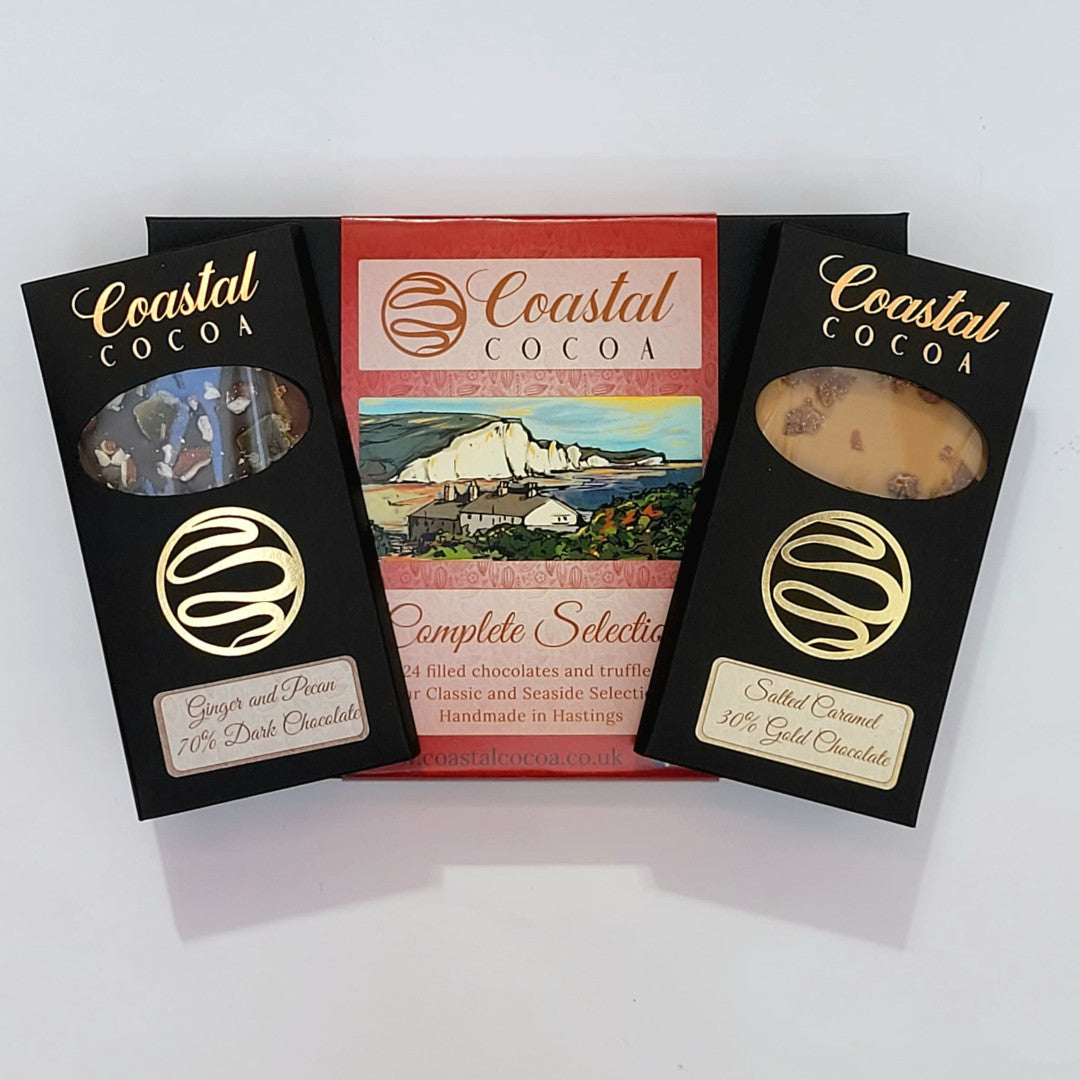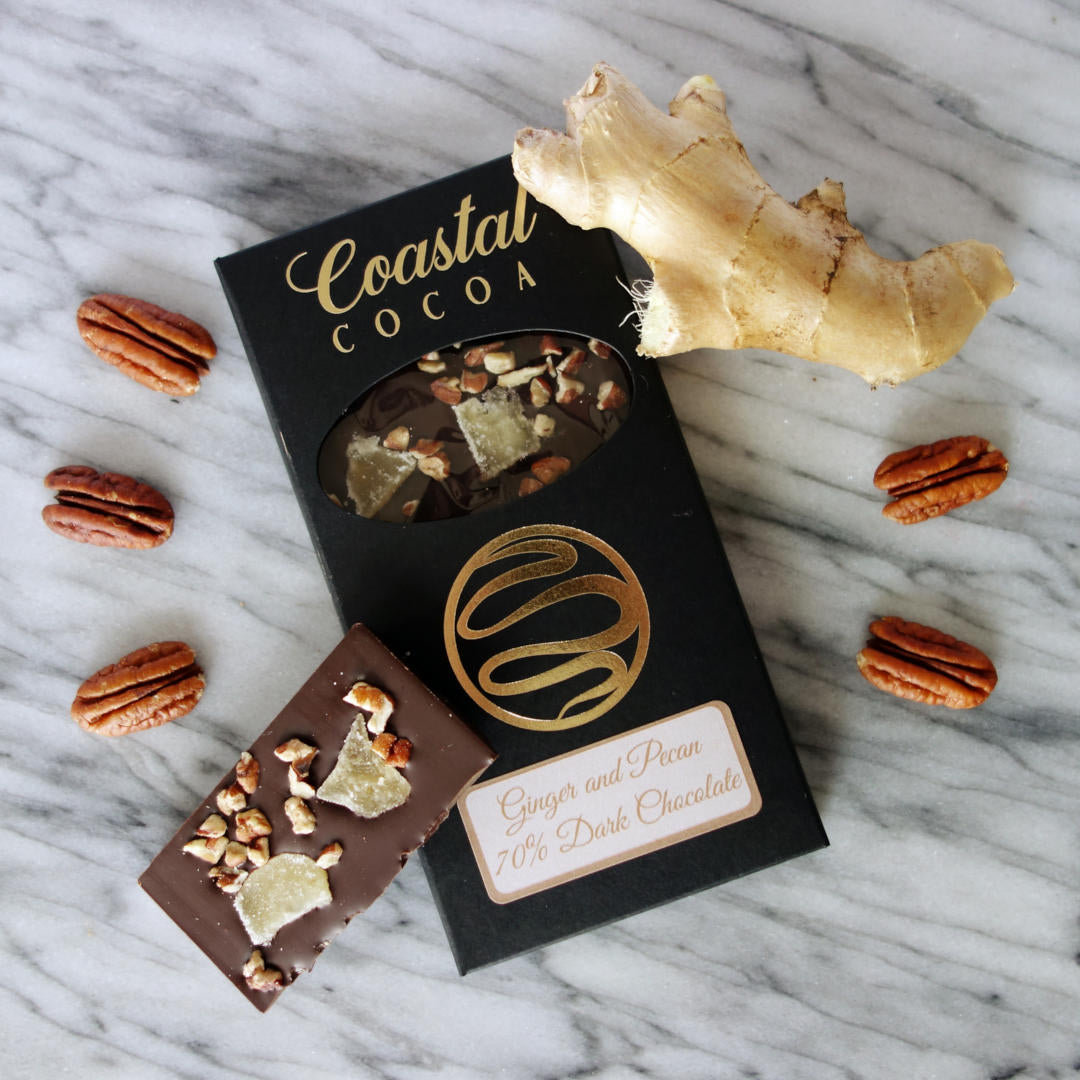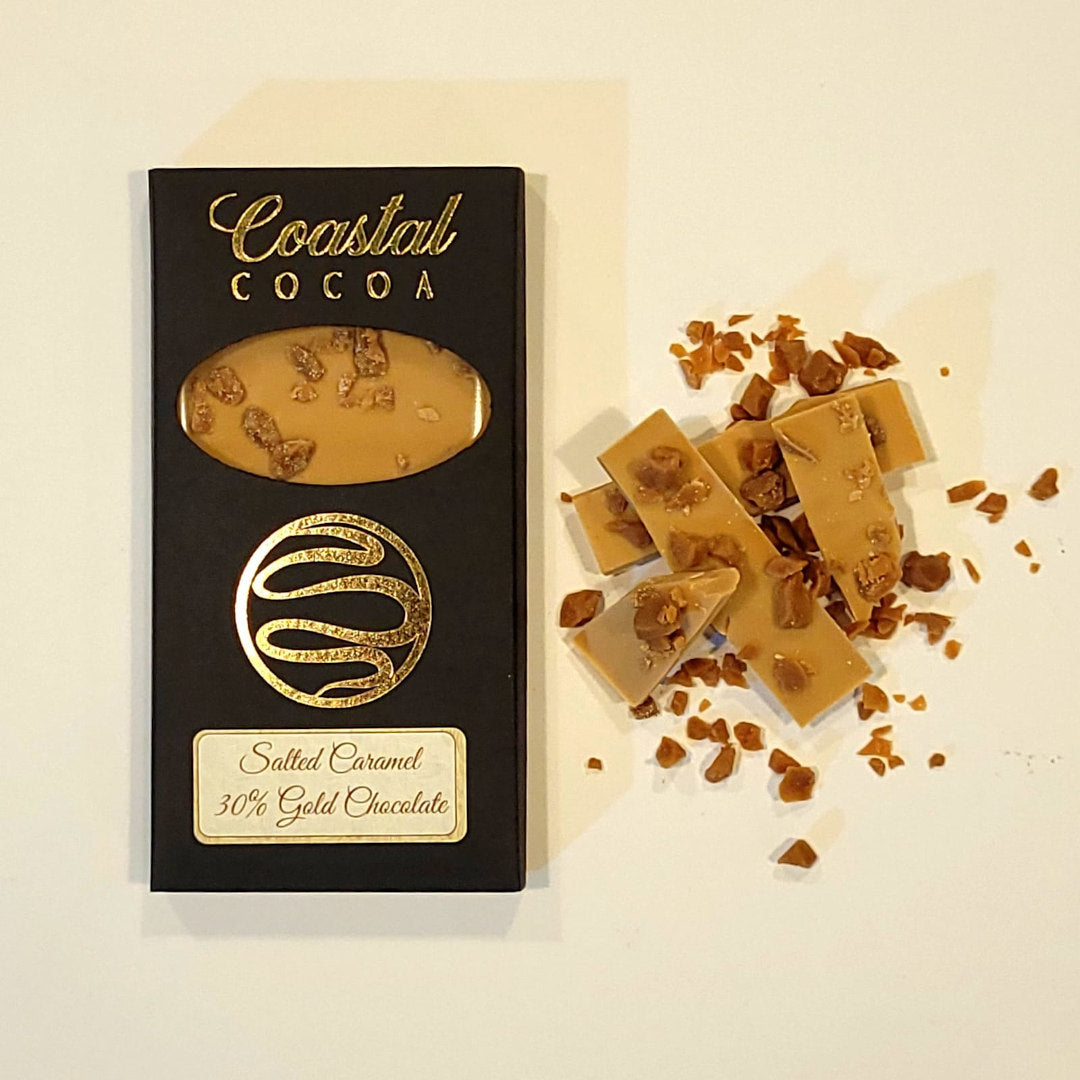 Best Sellers Bundle
📍Crafted in Hastings, East Sussex
The Best Sellers bundle contains our popular 24 piece Complete Selection, as well our two best selling bars, the Salted Caramel Gold bar and the Ginger and Pecan Dark Chocolate bar.
The complete selection contains all the chocolates from our Classic Selection and all the chocolates from our Seaside Selection. Experience the full Coastal Cocoa range.
The classic selection contains a range of chocolates to suit all tastes and preferences. There are dark, milk and white chocolates. For those who like their chocolate pure and unadulterated we have our Dark and Milk Chocolate Truffles. For the nut lovers we have our Hazelnut Swirl and Honey and Almond. For the fruit lovers we have our Bitter Orange Caramel and Blackberry and Vanilla. We have caramel in the Bitter Orange Caramels, and nougat in the Honey and Almond. We have praline in the Hazelnut Swirl and pate de fruit in the Blackberry and Vanilla. We even have two vegan friendly options in this selection. If you are sharing the box, there is sure to be something for everyone. And if you are keeping it to yourself (my preference!), there is a different flavour and texture experience in every piece.
Our Seaside Selection is inspired by childhood holidays on the coast. For my first special collection of chocolates I wanted something with strong personal meaning to me. We are based in Hastings, a classic British seaside town (hence our name!), so I was keen to come up with some flavours that reflected this. You'll be glad to hear I rejected seafood and decided to create a selection based on my memories of childhood holidays on the coast. With a mixture of dark, milk and white chocolates there is something for all tastes. This is a range of unique flavours that you won't find anywhere else. A couple of these have already become firm favourites of mine, and I'm sure you will find the same. Prepare to be transported…. can you hear the waves yet?
In this 24 piece selection you get two of each flavour, so there is no need to fight over who gets your favourite!
Ingredients - Cocoa Solids (cocoa butter, cocoa mass), Sugar, Cream, Glucose Syrup, Butter, Blackberry, Hazelnut, Honey, Almonds, Demerara Sugar, Seville Oranges, Condensed Milk, Milk, Wheat Flour, Egg, Sorbitol, Rapeseed Oil, Malt Extract (barley), Raising Agent E500ii, Sunflower Oil, Sunflower Lecithin, Antioxidant E306, Baking Powder, Nutmeg, Cinnamon, Vanilla, Xanthan Gum, Salt, Potassium Sorbate, Polysorbate 80, Peppermint Oil, Cola Flavouring, Carbon Dioxide, Citric Acid, Tartaric Acid, Pectin, Maize Starch, Sweet Potato, Spirulina, Radish, Apple, Carrot Hibiscus, Coconut Oil, Beeswax, Colours (vegetable fat (palm, shea), lutein, paprika extract, Caramel colour, E100, E102, E110, E120, E122, E124, E129, E133, E162, E171, E172, E202, E330, E422, propylene glycol), Colour Medium (cornflour, dried egg white, modified starch E1422, potato flour, olive oil), Alcohol, Soy Lecithin
Our Ginger and Pecan bar contains at least 100g of our delightfully smooth 70% Dark Chocolate. It is topped with slices of punchy stem ginger and toasted pecan pieces give it a bit of nutty crunch. Irresistible!
Ingredients - Dark Chocolate 70% (cocoa mass, sugar, cocoa butter, soya lecithin, vanilla), Stem Ginger (ginger, sugar, citric acid), Pecan Nuts
Gold chocolate is made by caramelising white chocolate – if you haven't tried it yet you have really been missing out. My gold chocolate bar is topped with crunchy toffee pieces and a fine sprinkling of salt to help bring out the caramel flavours.
Ingredients - White Chocolate with Caramel (cocoa butter, sugar, whole milk powder, milk sugar, whey powder (milk), skimmed milk powder, caramelised sugar, soy lecithin, natural vanilla flavouring, salt), Toffee Pieces(sugar, glucose syrup, sweetened condensed milk, palm oil RSPO, butter oil (milk), natural flavouring, wax coating (E903, veg oil)), salt